With energy-efficient improvements being more affordable than ever, homeowners no longer need to sit and wait to see what the future holds for their homes. From living walls to sustainable materials and energy-saving fixtures, organic and green designs represent the future modern architecture. Owing to expanding eco-consciousness, the future has never been brighter, greener and closer. Thus, if you want to design a healthy, modern and sustainable home, it's time to go green.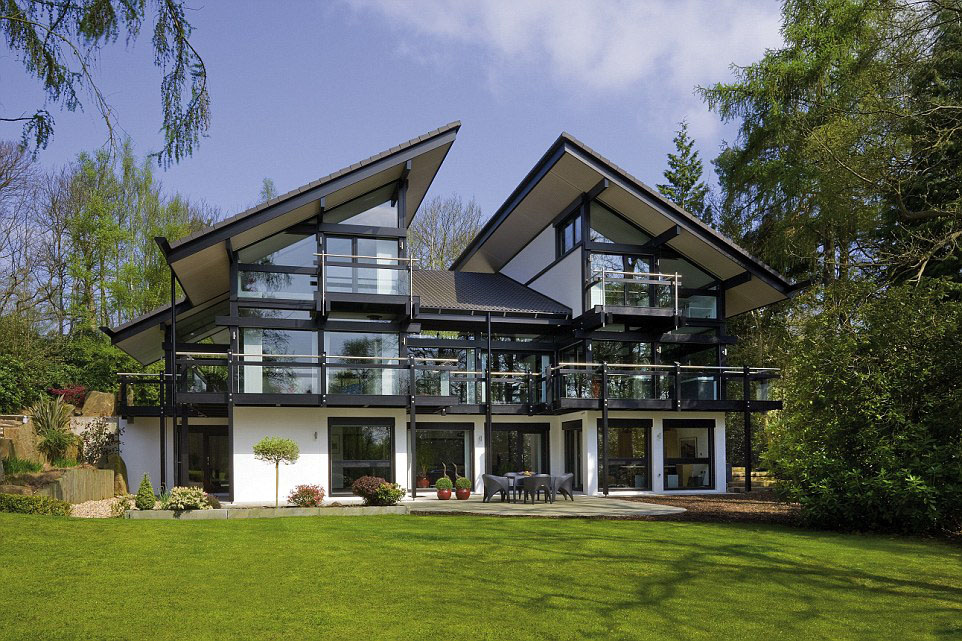 The exterior
The exterior of your home offers numerous opportunities for implementing energy-efficient changes that will increase the value of your home and create a stylish, modern look. A prime example of sustainable architecture is a building in Paris consisting of modular wooden boxes and a living façade. Not only does this building feature an authentic design, but it has also reduced its energy consumption by around 75 percent.
While such a state-of-the-art design might sound far-fetched in residential architecture, there are some practical solutions that you can introduce to your own home. For example, a vertical garden can provide your home with an additional layer of insulation, reducing your energy consumption. You can also install solar lighting fixtures around your backyard, creating an intimate and chic ambiance. For a unique lighting solution in your backyard, you can go with solar palms that absorb the sunlight through leaves during the day and then emit it during the night.
The bedroom
The bedroom is your sanctuary, an oasis of peace and relaxation. Thus, you should aim for a soothing and peaceful design. Natural light will help you create such a relaxing ambiance, so you should consider going with large, wall-to-wall windows. You should opt for triple-paned windows and thick, energy-efficient insulation, such as thermal insulation that is popular in the UK, that will keep your bedroom bright and noise-free.
As for the artificial lighting, you should install energy-saving LED dimmers that emit a soft, warm glow, creating a romantic and intimate atmosphere. If you have a small corner office in your bedroom, you'll need a brighter task light, so you should consider installing NanoLight, the ultra-bright and most energy-efficient bulb in the world.
The bathroom
If you want a modern and stylish bathroom, you should aim for a spa-like atmosphere and eco-friendly design. The rustic-modern style is the perfect combination of contemporary and sustainable elements, featuring a minimalist and organic look, simplicity and natural materials. This is a perfect opportunity for you to switch to sustainable materials and eco-friendly upgrades, such as water-saving fixtures and energy-saving lighting. You can also opt for energy-efficient appliances, including the washing machine, clothes dryer and water heater.
The kitchen
As the heart of your home, the kitchen is one of the most important areas in the house where you can implement an eco-friendly design. Apart from energy-saving appliances and LED lighting, you should consider investing in an energy-efficient ventilation because of all the cooking fumes. In the UK, the final step towards energy-efficiency is installing a solar energy system and a battery storage that can generate enough electricity to support your cooling and heating systems, hot water system, ventilation, lighting and appliances. However, if this is too big for you at the moment, you can start small and go one step at a time. For a modern and chic kitchen, you should go with energy-saving stainless steel appliances combined with cabinets made from sustainable wood.
The living room
The living room is your family area where you can spend quality time with your loved ones, so you should create a healthy and inviting environment. In Australia, the open floor plan is a popular solution that will help you create an open and airy living space. Not only will natural light permeate through your family area, but your space will also be less stuffy, so you won't have to use your ventilation and air-conditioning as much. However, since this is a major remodelling project, you should consider hiring a professional. For example, renowned Melbourne architects provide their clients with high-quality energy-efficient designs. Thus, you should find out who can provide you with such services in your area before undertaking this project.
By implementing these modern and energy-efficient changes, you'll be able to create a chic and eco-friendly environment and reduce your energy bill.