Masque. You have to spell it that way for it to work. It's a rule. The more Euro it sounds, the better off we'll all be.
I discovered hair masques when I went to Ojo Caliente with my pal Briana and took a plunge into the mud/clay pool. You wallow around in the mud and then lay on your lounge chair and bake like a tandoori under the New Mexico sun with all the other freaks. Let me tell you, it's quite the spectacle. So I decided to go for it and put mud all over my whole self, hair included. It was a bold decision. Brash. Not many have the constitution for it. After I rinsed it off, my hair (honest to Mother Mary) looked amazing. AMAZING! It was soft and fluffy. I was really pretty shocked. So I thought I'd try to recreate the effects at home. Note: this is a messy procedure, people. If you use henna, be careful not to get it on anything made of cloth as it can stain.
This is what the brochure says the mud pool looks like:
This is what the mud pool REALLY looks like:
I've got nothing but love for these people.
Them, too.
My goals for a hair masque:
softness
fluffiness/volume
shininess
cover gray
Here's what I came up with
dry/semi dry ingredients:
1/2 cup henna (I use dark brown henna. Use any color you want, or colorless henna for no added color)
1/2 cup mud or clay (I use dead sea mud. You can use any other kind of mud or clay. Bentonite clay is popular)
wet ingredients:
1/4 cup organic blackstrap molasses or local honey (molasses for dark hair, honey for light hair)
1/4 cup or more of boiling water
shower cap or plastic bag
Notes on the ingredients:
Henna
The henna imparts lawsone molecules into the hair shaft. These bind with the keratin already in your hair. "Henna" can be one of three plants, powdered: Cassia obovata (Senna) is neutral and colorless; Lawsonia inermis (Red Henna) is the auburn reddish henna; and Indigofera tinctoria (Indigo or black henna) is dark. Most hair hennas are mixtures of different hennas and other plants such as walnut or and rhubarb. Here's a great website with lots of information about henna: hennaforhair.com
Henna lasts 4 to 6 weeks and also cures head lice, ringworm, and dandruff! Yay!
Clay or mud
Clay has a negative electrical charge, and attracts things with a positive electrical charge. When you add water to clay and mud, it acts like a sponge, attracting and holding dirt, pollutants, and other impurities. When you rinse it off, all those nasties go with it. It also contains lots of minerals and acts as an antioxidant.
Molasses
Contains LOTS of minerals. It smoothes and darkens the hair. It prevents the hair from drying out. It's amazing. Including it into your diet is supposed to keep your hair from going gray (the copper content facilitates the production of melanin). I don't know about that, but I know it helps cover the gray when I use it topically.
Honey
Supposedly lightens hair, and will help seal the cuticle and hold in moisture. I've never tried it, but I use it on my face a lot and love it. It's very easy to rinse out.
Hair Shaft
Jacked up cuticle.

 
ACK! Seriously jacked up cuticle!
DO IT!
Mix the dry ingredients into a glass or ceramic bowl. You can play with the proportions here, according to your goals. I like 1/2 and 1/2, but I'm considering putting more henna and less mud in order to amp up the color saturation. My grays are becoming rather tenacious these days. Henna is really good for the hair, so even colorless henna is always going to be beneficial.
Heat your water and dump it into the bowl. Add the molasses and honey. Mix it up. There you have it! If it's too loose, add more mud or henna. If it's too pasty, add more water. Smear the stuff into damp hair. Make sure you cover every strand. The texture is pretty cool. This part is fun. I do it outside, usually. Pile your hair on your head and clip it. Cover it with a shower cap or plastic bag. Leave it on for as long as you can. I do an hour at minimum, which seems to work. Some people leave it on over night. Do what you think is best.
Rinse it in the shower. It actually comes out pretty quickly and easily. You can shampoo if you like, with no adverse effects. Follow with a vinegar rinse (vinegar and water). Let the vinegar rinse sit on your hair for a minute or two, then rinse out REALLY REALLY WELL. The rinsing is key.
Healthy hair shaft, with cuticle lying flat.
Your hair should be GLORIOUS! Note: photos below are just random pilfered photos of awesome looking hair.
After!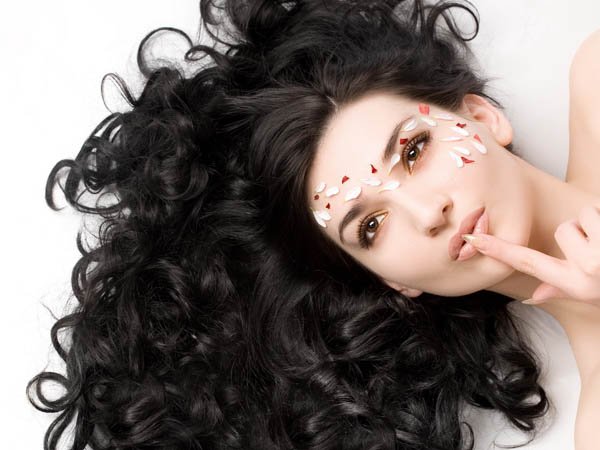 After!
AFTER! From The Drifter and The Gypsy Blog: here
After! is this even real??? No.